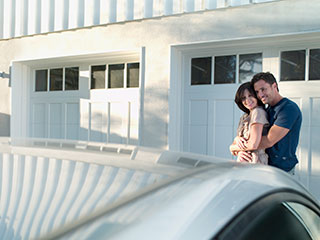 The garage and Valentine's Day are two terms that aren't very commonly associated with one another. When you think of this special day, you think of dining in exclusive restaurants, going ice skating, walking by a lake or watching a romantic drama in a movie theatre. However, not every person has the luxury of spending Valentine's Day outdoors with their significant other. Sometimes, you need to improvise and find a way to make this occasion special with what you have at home. Instead of simply having a candlelight dinner with your loved one in the dining room, why not clear up the space in the garage and add an air of novelty to this dinner date of yours? Here are some helpful guidelines for you if you choose to explore this option:
Clean the Garage

The garage is not supposed to be the cleanest place in your residence. You probably have a bunch of things in there that you use not more than once or twice a year. If you are planning to have a dinner date inside the garage, then your first order of action is to make sure that the place is absolutely squeaky clean. Not only will it make it more comfortable for you to have dinner with your beloved in there, but it will also let your special person know that you care about them enough to go through this hassle. Be sure to take the vehicle out of the garage before you clean it up.


Get a Table for Two

Most couples prefer to buy a large dining table for their homes to make sure that guests can be accommodated for special dinner gatherings. It is quite rare for someone to have a small, cozy and romantic table for two in their dining room. To make your garage look like a secret hideout for lovers on Valentine's Day, you need to spend some time looking for a smaller table. You may think that the size does not make much of a difference, but you will find out exactly why it is important to invest in a smaller table once your loved one is sitting across the table and looking straight into your eyes. You really can't put a price tag on romantic moments such as these. If you possess decent carpentry skills, you could also attempt to make a table on your own. Regardless of whether you make it, buy it or borrow it, make sure that you place the table at the centre of the garage and surround it with dim lights and soothing music.

Decorate the Garage Door

If the dinner date inside the garage is meant to be a surprise on Valentine's Day, then you should think about how you can use the garage door to add to the element of surprise. You can decorate the garage door with satin wreaths and flowers. You could also paste memorable pictures of yourself and your loved one on the door. A wonderful way of revealing the surprise would be to hand your loved one the control to the garage door opener. Ask them to open the door with the control and then they will be slowly exposed to the beautiful arrangements that you have prepared for them inside. The suspense will make the experience even more exciting. Do not forget to check up on your garage door or have it maintained before the big Valentine's Day surprise. You certainly don't want any last minute malfunctions.